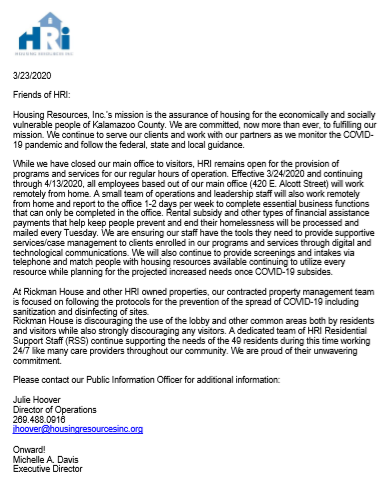 We Need Your Help to End Homelessness!
Join Our 2020 Virtual Walk to End Homelessness!   
Dear Walkers, Fundraisers and Donors,
HRI's annual Walk to End Homelessness scheduled for March 28th will be restructured to be a Virtual Walk to End Homelessness! We will not be gathering in person on March 28th. 
In this time of crisis and uncertainty, HRI extends our warmest thank you for your continued support! In order to support the Stay Home Stay Safe order in Michigan, we will be cancelling the donation drop off and t-shirt pick up scheduled for this week, March 26 and March 27th related to our 2020 Walk to End Homelessness. This activity will be rescheduled for a later date which we will communicate when decided.
We are continuing our online fundraising and virtual walk option consistent with the Governor's current guidelines. If you can get outside this week, snap a picture of yourself and post it on our HRI Facebook page, your Facebook, Twitter and/ Instagram with the hashtag #housingresourcesinc
Our residents who are experiencing a housing crisis or homelessness need your help now more than ever!

Check back often for more updates! 
If you have questions, please contact gbarnum@housingresourcesinc.org.  
Our Mission
The mission of HRI is the assurance of housing for socially or economically vulnerable persons of Kalamazoo County.
Thanks to Our Generous Supporters